Just scroll, click and relax
Conveniently shop for the best pet supplies from anywhere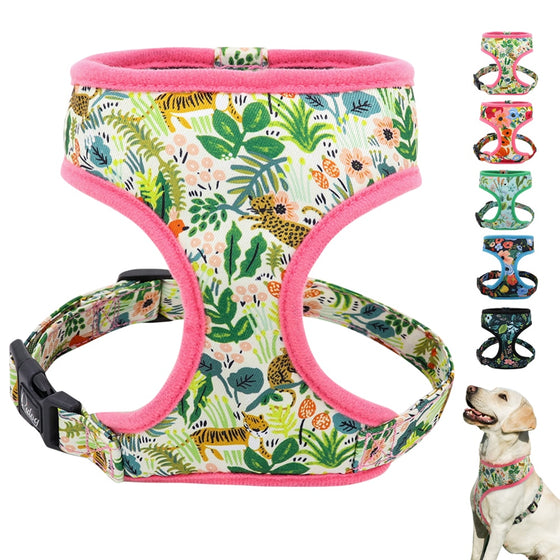 Brand new
The best summer ever....
Step out in this botanically inspired harness. Feel the sunshine on your furry coat and the wind blowing your ears as you become one with nature.
Shop Now
Thank you for helping to make a difference
As pet rescuers for over 35 years we know how important our pets are to us and our responsibility to make sure they are healthy and happy.  We support no kill shelters and hope more people will open their heart to pet adoption. A portion of our profits go to support organizations dedicated to adoption, rehabilitation and rescue of animals.
We are always looking for new ways to help. If your organization would like to be included in our sponsorship program send us an email with your organizations information and we will send you an application.
Shop Our Collections For that Something Special You Are Looking For.
Good material, cute colors and fast shipping. Very well made harness and is durable enough for our puppy!
Very well made and feel better that she is wearing it, when in the car, attached to the seat belt latch. I don't have to worry about her choking, should I need to make a fast stop. Dress did hold its shape through the washing / dryer. Will be buying the Black Harness Vest!
This is a fantastic yet practical piece of dog clothing. It's durable and adorable, and definitely turns some heads. I think for the price, the quality and workmanship is incredible.
We bought this for our 5 month old French Bulldog puppy. She's 16 pounds and has a chest measurement of about 19 inches. It fits great! I do wish they had a larger size, as I think she'll outgrow it quickly. I have the matching leash, collar, and seat belt with plans to buy the dress/harness too. They're so cute and well made.
This is the most well made harness I've ever purchased. It looks EXACTLY like the picture and fits 100% as described. I was so nervous to spend on a harness bought online because I feel like whenever I do measurements it still doesn't fit right. This was spot on. I'll definitely be purchasing in other colors.
WHAT OUR CUSTOMER'S SAY ABOUT US!
The quality of the product is excellent. Product received was as described

⭐️⭐️⭐️⭐️⭐️
Friendly Customer Service. Answered all of my questions and more. Happy with my purchase.

⭐️⭐️⭐️⭐️⭐️ 
Great Service. Was kept informed from the moment I placed my order until the product was delivered. Will definitely buy again.

⭐️⭐️⭐️⭐️⭐️